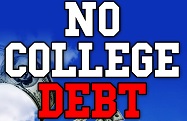 Attention Kindle users!
The Kindle version of No College Debt is now available on Amazon for $49.
This is the same price as the PDF version available on No College Debt, so if you prefer reading eBooks on the Kindle, this might be a good option for you.  We are also working towards making a print copy available on Amazon as well.
If you know of anybody that is interested in this version, please pass on the word.
If you have any questions or want to tell us what you think about the No College Debt eBook, leave a comment below or shoot an e-mail to info@nocollegedebt.net.
Thanks,
Josh