An increasing number of incoming college students are entering college with credit that was earned during the high school years.  While Advanced Placement programs were the gold standard for years, the overwhelming choices now are either CLEP or Dual Enrollment.  Depending on the learning style of the student, one option can be better than the other.  So, what's the difference between CLEP and Dual Enrollment?
What is CLEP?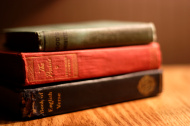 CLEP is an exam administered by The College Board (the same folks that do the AP & SAT exams).  Each exam is graded on a pass/fail basis and passing scores can be counted as college-level credit.  So, passing the American Literature CLEP exam can count as 3 semester hours (1 semester class) because you simply took a test on what you already knew.
CLEP exams were first designed to help military servicemembers and working adults earn college credit by "testing out" of classes they had already mastered.  As the cost of college continues to rise, more high schoolers are taking advantage of this money-saving opportunity as well because each test costs about $100 ($80 for the exam plus testing center fee).
Advantages of CLEP
There are many advantages of the CLEP program.  Here are a few:
Anybody can take an exam
CLEP is great because anybody can take the test at anytime throughout the year.  Unlike Advanced Placement or Dual Enrollment tests that only take place in the Spring semester and usually require class enrollment and homework (plus summer assignments), CLEP exams are self-study and you only need to show up at the testing center at the exam time.
CLEP exams are ideal for homeschool students, teenagers taking a "Gap Year" in between high school and college, and adults that are stay-at-home parents or work full-time.  Current high school students can schedule an exam at the end of the semester while all the information is still "fresh" in their head to get the highest score possible with minimal study time.
33 CLEP Exams
Dual Enrollment is convenient, but, most local college might only offer classes in select courses such as English or Math.  There are 33 CLEP exams available in the following categories:
Composition and Literature
World Languages
History and Social Sciences
Science and Mathematics
Business
Most CLEP exams will earn credit for 100 and 200-level classes.  Each exam and school admissions policy is different, but, the exam can count for 3 or 6 college credits.
Cheaper Than College
As the average 2016 college graduate has $37,000 in student loans, CLEP exams help make college affordable and potentially graduate early!
An average tuition rate for an in-state 4-year university is around $300 per credit hour.  Referring back to the 3-credit American Lit class that CLEP exam can be substituted for, that same class will cost $900 to attend in-person for the semester, but, only cost $100 to take the CLEP exam.  That's a $800 savings.
Assuming you transfer 15 credits to your college, that's about $1,500 for CLEP and $5,000 by attending each class, plus three months of your time.
Disadvantages of CLEP exams
There are two main disadvantages of CLEP exams.
Each school has different acceptance policies
This is a disadvantage of Dual Enrollment as well, but, most traditional colleges will only allow so many credits to be transferred from other college programs and exams.  Before enrolling to take all 33 exams, it's probably a good idea to see their credit by examination policy.
Of course, other colleges like Thomas Edison State University or Excelsior are more friendly and it's possible to take almost all 4 years of classes through CLEP and DSST exams.
Not ideal for students that need classroom environment
CLEP exams are great for those that can self-study.  But, some students need the structure of a teacher-led class to earn credit because they do not know where or what to study.  That's okay.  We all learn differently.
Don't let this disadvantage deter you.  You might not need to take a class to study for SAT or ACT college entrance exams (although there are plenty available), but, only need to buy a study guide.
With CLEP exams, there are plenty of resources available to help teach you how to prepare for CLEP exams and almost any textbook will be sufficient.
If you are a high school homeschool student, CLEP exams are your version of Advanced Placement or Dual Enrollment.  You take the test on your timeframe (fall, spring, summer, winter) and can "double dip" as you earn high school credit for the material you study through your umbrella or co-op.
---
What is Dual Enrollment?
Dual Enrollment is most popular with public high schools as school systems partner with a local community college or university to provide a college-level class to high school students.  These classes are notably cheaper than waiting until college to take the class, but, can cost more than CLEP depending on the school district.
Advantages of Dual Enrollment (DE)
Just like CLEP there are some advantages of Dual Enrollment
Great for students that need classroom structure
CLEP might seem intimidating because students and families need guidance to navigate the CLEP process.  Dual Enrollment is a traditional high school class with college level homework.  Students attend each day and do the necessary tests and exams to prepare for a final exam at the end of the academic year.  By passing the exam, they receive the equivalent of 6 credits (two semester classes) on their college transcript.
Higher Probability of Earning College Credit Than Advanced Placement
AP used to be the go-to option to earn college credit during high school.  This still might be a better option for those that plan to attend a private college with selective credit transfer policies, but, a majority of AP students do not receive an AP exam grade high enough to earn college credit, meaning the year was wasted if the sole purpose of taking the class was to get a head start on college.
It still pays to check with your prospective schools regarding Dual Enrollment policies from your high school, but, they transfer to most regional state colleges and universities.
Disadvantages of Dual Enrollment
There are two sides to every coin.  Here they some of the key disadvantages:
Selective College Admission Policies
Similar to CLEP, colleges often place a limit on the number of Dual Enrollment classes an incoming student can count towards college graduation.  You might only be able to transfer 15 or 30 credits total.  Before enrolling in any CLEP or Dual Enrollment class, take a few minutes to check the policies of your prospective colleges.
One Year Commitment
Most Dual Enrollment courses last the entire academic year.  Plus they require a summer reading assignment and project that is due at the start of the fall semester.  I'm all about learning as much as possible in every area of life, but, is it the most efficient use of your time.
If you are a current high school student, you need so many history, math, and English classes to graduate.  If you can earn college credit at the same time, Dual Enrollment puts you a step ahead of most college students that are repeating the same course in college except they have to pay for it this time.  It's like summer school during high school.
But, if you are fairly certain you can pass a CLEP exam and without the additional DE requirements, it can be well worth the decision to opt-out of the Dual Enrollment class for your academic strengths that allow you to self-study for a test.
Who Wins the CLEP vs Dual Enrollment Battle?
It ultimately depends on your time schedule and learning needs.  If you need structure to complete the academic year or do afraid you will fail the CLEP without taking Dual Enrollment, choose Dual Enrollment.
If you can self-study or your school doesn't offer Dual Enrollment for a class that CLEP also offers an exam, spend the $100 and take the exam.  If you pass, you saved hundreds of dollars.  If not, you can always take the test again in 90 days, or, you know how to better prepare for other CLEP exams.
---
At No College Debt, we are here to help you earn a college degree debt free and navigate the credit-by examination process.  We are here to help.
If you have any questions, please e-mail us at info@nocollegedebt.net.